About the course.
This inner-city circuit is based on the original course set up for the World Half-marathon Championships in 1997. There are no prominent uphill sections, and the streets are fully asphalt surfaced. The marathon course consists of two laps, while the half-marathon runners complete just one. The marathon, as the main discipline of the KPM has IAAF and AIMS certificates issued for its course. Additional disciplines take place in parts and sections of this urban circuit, and their competitive distance is not subject to such international certifications.
A fast marathon course must be distinguished by several positive parameters. In addition to the low number of directional changes or sharp turns, the elevation profile is also obviously important. In Košice it was possible to create a course which from this point of view satisfied even the most demanding criteria.
In Berlin, where several world records have been run, the course has 21 directional changes that are relatively sharp or equal to 90° turns. In Košice the number of such changes in direction over both laps of the course is equally low.
If we take a closer look at the elevation profile of the course, we see that the elevation between the lowest and highest-lying points achieves on the city circuit in Košice only 16.35 m (200.700 m above sea level to 217.050 m a.s.l). Another major factor, the total of all climbs on the marathon course, in Košice adds up to only 74 metres. For comparison, the elevation difference in Berlin is 25.6 m (the sum of climbs is 37 m) and, for example, in Boston, 146.3 m (a sum of 241 m).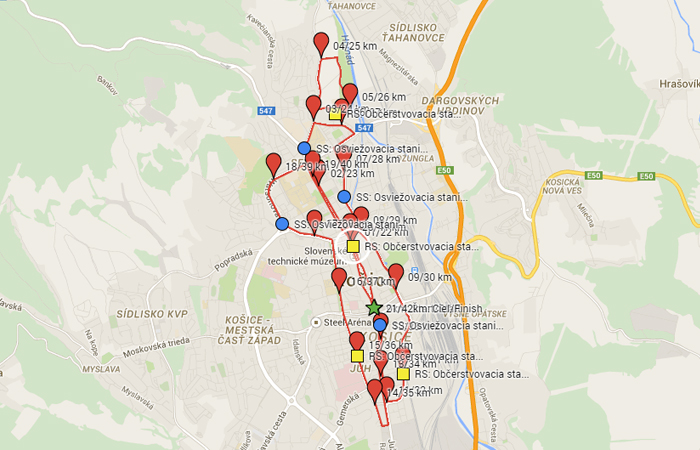 All the fast marathon courses must have couple of positive parameters. Besides very few direction changes or sharp turns it is of course the elevation profile. In Košice there is a course meeting the most challenging criteria. In Berlin where plenty of world records have been set up there are 21 direction changes on the course in the angle equal 90Ëšor even sharper. In Košice the number of such direction changes on the full marathon course is the same low.
If we have a closer look to its elevation profile we will find out that difference between the lowest point on this Košice city circuit and its peak is only 16,35 m (200,7 m above sea level – 217,05 m a.s.l.). The cumulative elevation gain on the marathon course is then 74 meters.
For your information in Berlin the difference between lowest and highest point is 25,6 m (cumulative elevation gain 37 m) and in Boston 146,3m (cumulative elevation gain 241 m).