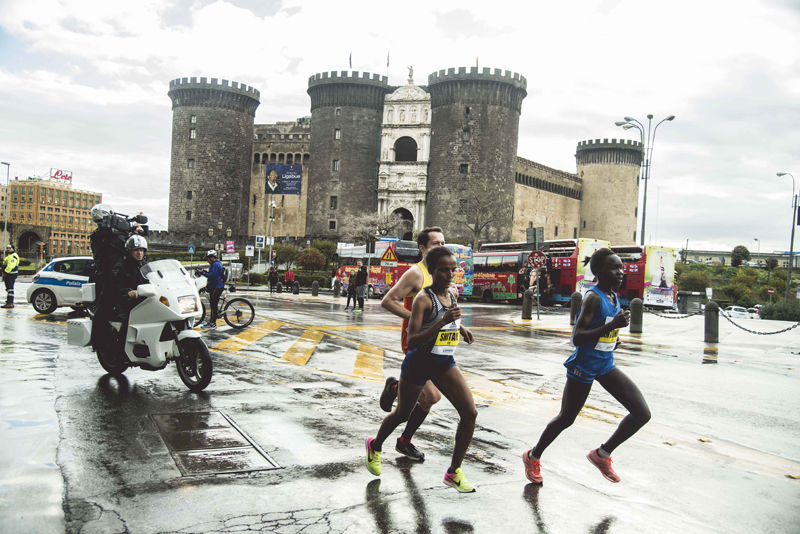 2022 Race
Shines in the sun and in the sea of Naples the historic Italian record signed by the blueYeman Crippa(Police) who at theNaples City Half Marathonblocked theclock on 59'26".Italian record snatched from Eyob Faniel (1h00'07"), race record taken away from Henry Rono (1h00'04"), first time of an Italian under the wall of the hour, 13" just from the first European still in the hands of the Swiss Julien Wanders today 6th in 1h00'28". He takes the jackpot and blows up the Yeman bank that writes an indelible page in the history of European and Italian athletics.
Naples at the center of the running world, with a competition of the highest technical level with four athletes under the hour, between 59'26" and fourth in the standings Abrha Mogos Tuemai (59'35") the beauty of only 9". In between, to seize the quicksilver of this day there is the Kenyan Belet Joshua Kiplangat in 59'28", while third Kemei Josphat Kipkemboi with 59'32".
The women's race will also be remembered with thesuccess Gladys Chepkiruiwho crosses the finish line of Viale Kennedy, at the Mostra D'Oltremare, in 1h08'09" improving the personal record by over 5 minutes. Behind the Kenyan the Ethiopian Bezabh Ftaw Zeray in 1h09'36". The long-awaitedSofiia Yaremchuk (C.s.Esercito),naturalized Italian for a year but of Ukrainian origins, finishes third and ended her race waving the Ukrainian flag and printing her new first personal with 1h10'13".
It is a wonderful day for Italy as well as for Naples, in the race to be recorded also the gooddebut of Yohanes Chiappinelli (Carabinieri) who finished in 12th place overall, and 2nd Italian, in 1h'2'08" and the 13th place in 1h02'35" ofIlias Aouani (Fiamme Azzurre), Italian champion in charge of half marathon, which takes away 26" from the personal record.
About the course.
The route, certified by IAAF and AIMS, is a Category A course (world record-eligible and performances are included in the national ranking), that runs through many of Naples' most beautiful streets, along the seafront and through the historical center, and starts and finishes by the Village (House of Athletes). The temperature is ideal: in February, Naples is almost always between 5 and 15 degrees. All services are just a few meters from the start and finish, in large indoor spaces, available to the athletes before and after the race.