Amica Insurance Seattle Marathon
Sunday December 1st, 2019
Seattle, WA
Distance: Marathon · Half Marathon · Kids Race
From its humble beginnings in 1970 when a group of friends from the University of Washington decided to hold their own marathon, the Seattle Marathon Family of Events has grown into the largest combination marathon/half marathon in the Northwest and one of the top ten largest in the U.S.
That first marathon 45 years ago sported 38 runners. This year, 15,000 participants are expected for the marathon and half marathon walking and running events. Join us November 27th for Seattle's Original Hometown Marathon Year 46.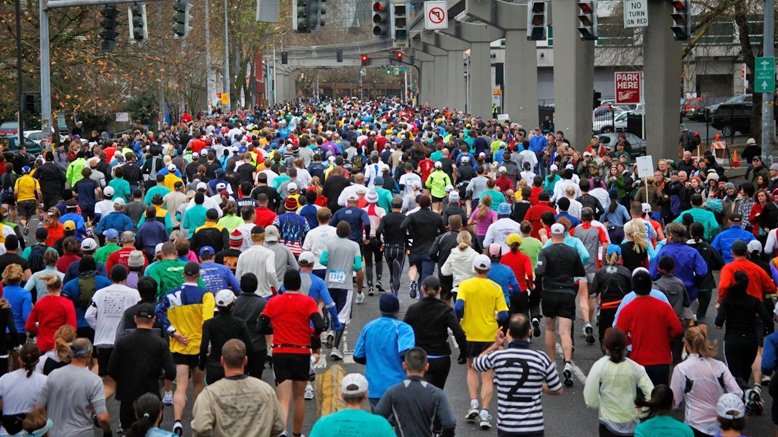 Your star rating and comments count.
Race Date: 11/25/2018 Distance: Marathon
| | | | | |
| --- | --- | --- | --- | --- |
| Division | Time | Name | Age | Home |
| Male | 2:27:21 | ALEX BOWNS | 24 | Seattle, WA |
| 2nd Male | 2:30:31 | MARK HAMILTON | 31 | Seattle, WA |
| 3rd Male | 2:32:45 | JOSEPH DARDA | 30 | Fort Worth, TX |
| 4th Male | 2:40:18 | TAYLOR HALVERSON | 30 | White Salmon, WA |
| Female | 2:54:49 | ALLISON THOMPSON | 29 | Whitehorse, Canada |
| 2nd Female | 3:01:11 | KRISTINA RANDRUP | 25 | Seattle, WA |
| 3rd Female | 3:02:53 | MONICA FOLTS | 30 | Denver, CO |
| 4th Female | 3:03:43 | SHELBY ROBERDEAU | 37 | Woodinville, WA |
| | | | | |
| --- | --- | --- | --- | --- |
| Division | Time | Name | Age | Home |
| M 40-49 | 2:42:00 | MASAZUMI FUJIOKA | 46 | Bothell, WA |
| M 50-59 | 2:59:17 | CHRISTOPHER HOUSER | 50 | Woodinville, WA |
| M 60-69 | 3:08:54 | DEREK BRENCHLEY | 60 | Canada |
| M 70+ | 3:43:09 | ANTHONY ROSE | 71 | Bothell, WA |
| F 40-49 | 3:12:11 | ANN STEFFEN | 40 | Portland, OR |
| F 50-59 | 3:30:37 | TANYA ZARIN | 50 | Surrey, Canada |
| F 60-69 | 4:07:16 | JUANINA DENIEL | 62 | Dijon, France |