Seattle Marathon
Sunday November 26th, 2023
Seattle, WA
Distance: Marathon · Half Marathon · Kids Race
Offical Race Web Site
From its humble beginnings in 1970 when a group of friends from the University of Washington decided to hold their own marathon, the Seattle Marathon Family of Events has grown into the largest combination marathon/half marathon in the Northwest and one of the top ten largest in the U.S.
That first marathon 50 years ago sported 38 runners. This year, 15,000 participants are expected for the marathon and half marathon walking and running events. Join us December 1st for Seattle's Original Hometown Marathon Year 50.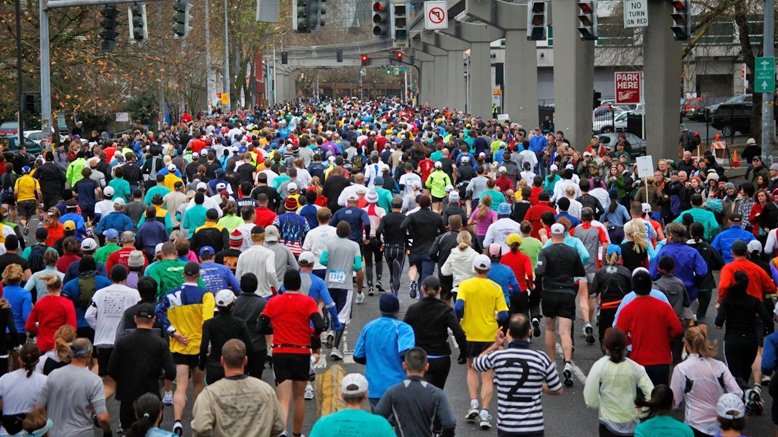 Your star rating and comments count.
Seattle Marathon, Race Date: 2022-11-27, Distance:
Marathon
| | | | | |
| --- | --- | --- | --- | --- |
| Division | Time | Name | Age | Home |
| Male | 2:32:32 | James Wenzel | 27 | Friday Harbor |
| 2nd Male | 2:33:28 | Sam Symmes | 25 | Bothell |
| 3rd Male | 2:35:17 | Zach Johnson | 22 | Seattle |
| 4th Male | 2:38:08 | Dan Sloat | 33 | Seattle |
| Female | 2:54:56 | Janitzia Pizarro | 54 | Redmond |
| 2nd Female | 2:59:50 | Boram Kim | 36 | Woodinville |
| 3rd Female | 3:00:19 | Fawn Whiting | 37 | Victoria |
| 4th Female | 3:03:25 | Sara King | 35 | Shoreline |
| | | | | |
| --- | --- | --- | --- | --- |
| Division | Time | Name | Age | Home |