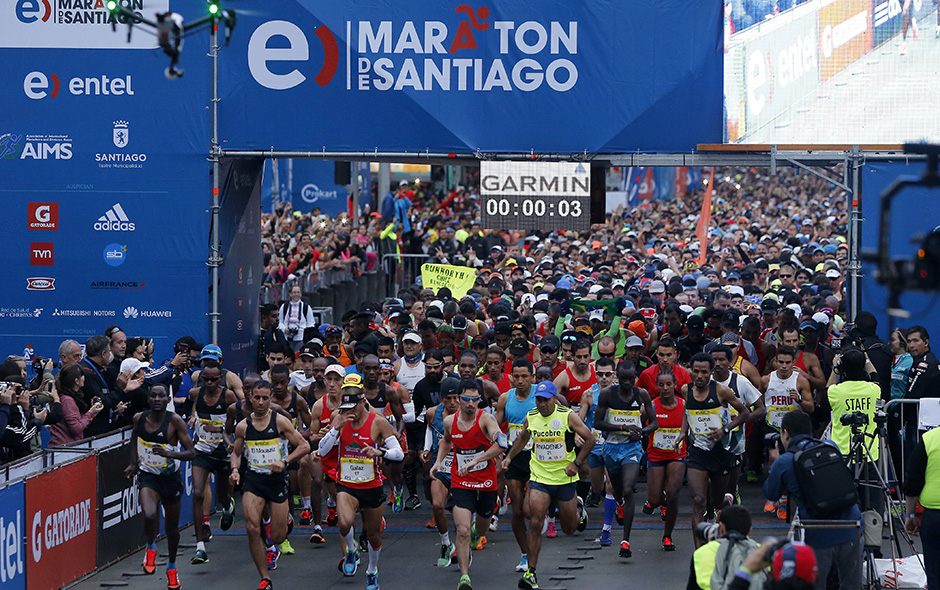 More and more massive
The 2009 edition once again exceeded the most optimistic expectations. Of the more than 16 thousand registered, 1,263 ran the full distance of the Marathon, 5,558 the Half Marathon and 8,969 the Run of 10k, in a day whose effective participation was estimated at more than 22 thousand people.
An important milestone of this edition was the mark of Erika Olivera, who won the women's category with a time of 2:36:19, which allowed her to qualify for the World Athletics Championships in Berlin.
Bicentennial Marathon

Given the explosive growth of the race, the organization again increased the number of registrations in 2010. A special year, since in addition to having the historical and symbolic incentive of the Bicentennial of the country, the population was moved by the catastrophe of the earthquake of 27 / F. The Marathon of Santiago was proposed as a gesture of unity and solidarity to raise the nation and its people affected by the natural disaster. The response was effusive and more than 25 thousand athletes from all regions of the country and abroad gathered in front of the Government Palace.
They witnessed the deployment of the largest human flag that has been known in Chile and the milestone of over 2,600 registered for the distance of 42k.
In search of future talents

For the Entel Marathon of Santiago 2015, the MDS Corporation presented a new project that sought to detect runners between 15 and 18 years old to make their debut in the 10k. The objective of this initiative is to promote running and seek the talent of young athletes, and in an initial stage was held in four of the municipalities that cross the event: Santiago, Providencia, La Reina and Las Condes.
The plan was carried out by the YKA club, led by Erika Olivera, and the training was carried out in the facilities of O'Higgins Park, Inés de Suárez, and Parque Araucano. Participation was free with the idea of maintaining this initiative over time.
A Solidarity Marathon

For the first year, in 2015, the Santiago Marathon Corporation and UNICEF Chile signed a cooperation agreement that allowed the international body to benefit from the ninth edition of the largest sporting event in Chile, in which 28,000 runners registered for the first time.The agreement consisted in that the participants of the Entel Marathon of Santiago 2015, at the time of registration, could make a donation or become partners of UNICEF Chile during the withdrawal of the kits at ExpoRunning 2015, a three-day activity that precedes the competition .
Of the total number of participants in the competition, 4,543 participants decided to make a contribution to the international organization, which totaled an amount of $ 8,469,312. These funds are intended to help UNICEF continue working to ensure compliance with the rights of children and adolescents living in Chile.